John Grade is the founder and principal engineer at Grade Designs.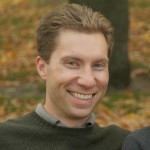 Ph.D., Stanford University, 2000
MSME, Stanford University, 1994
BSME, California Institute of Technology, 1993
Building on his academic training in robotics, precision assembly, and microsystem design, Dr. Grade has developed industrial expertise in rapid prototyping, nonconventional fabrication, and electromechanical design. While working with Quinta, Seagate, and Iolon, from 1997 – 2005, he created innovative solutions that combined optics, electronics, and nanotechnology to enable advanced telecom and data storage products.
After relocating to Madison, Wisconsin, Dr. Grade worked with local companies to redesign or invent new medical and consumer products, providing IP strategy, visualization, and prototyping services. He also co-founded Tera-X, LLC, to address the technical needs of the growing THz community.  He founded SoloStrike, Inc to fill an unmet need in martial arts training.  He is an Engineering and Math professor at Madison College.
Dr. Grade holds over twenty U.S. patents in the fields of microsystems, fabrication, and precision assembly.
Contact Dr. Grade